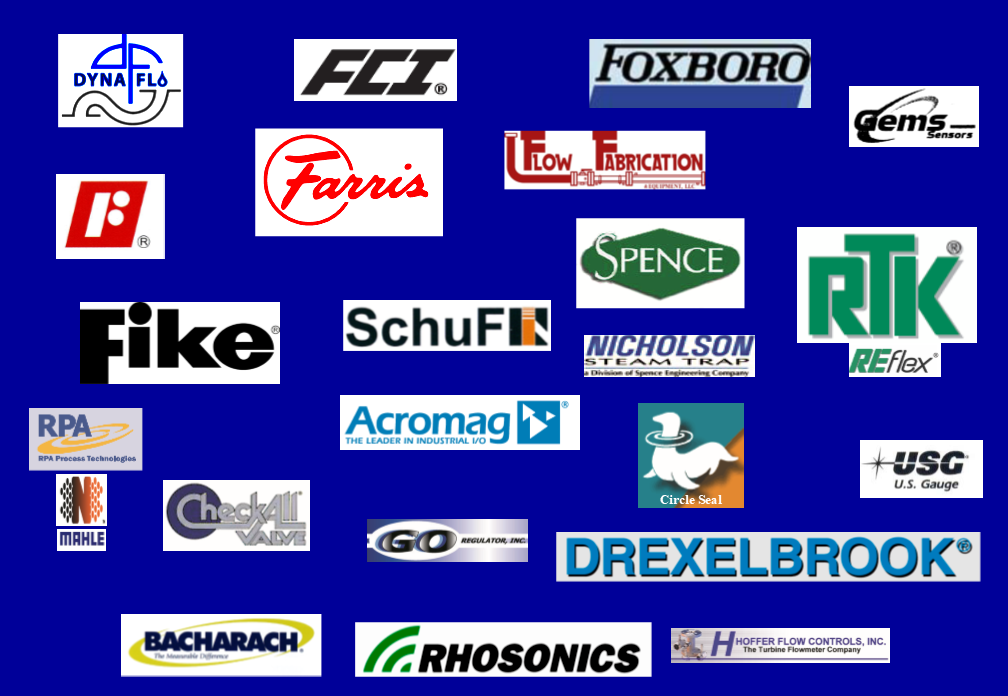 FARRIS ENGINEERING
DIV.CURTISS WRIGHT FLOW CONTROLS
Pressure Relief Valves
Safety Valves
Safety Relief Valves
Pilot Operated Valves
Triple Offset Butterfly Valves
FOXBORO
Pressure & Temperature
Mass, Mag, Vortex Flow Meters
Level, Density, Interface
E – Chem, pH, Conductivity
Eckardt Valve Positioners
Control Systems– I/A Series, SCADA
Radar Level
FIKE CORPORATION
Rupture Discs & Holders
Explosion Vents
Flameless Venting
Explosion Protection Systems
Isolation Valves
Suppression Systems
Explosion Dust Testing Services

FLUID COMPONENTS, INC.
Liquid/Gas Flow Switches
Liquid Level & Interface Controllers
Air/Gas Mass Flowmeters
Biogas & Vapor Flowmeters
Multi-point Mass Flow
SPENCE ENGINEERING
Pressure & Temperature Regulators
Pilot Operated & Self-Contained Regulators
Pneumatic and Electric Control Valves
Safety Relief Valves section I & VIII
Condensate Pumps
Electronic Pilots-VH210

DYNA-FLO CONTROL VALVES
Globe Style Control Valves
Rotary Valves
Actuators / Positioners
DREXELBROOK—AMETEK
Radar Level transmitters, FMCW and TDR Guided Wave level
RF Admittance for Point and Continuous Level
Ultrasonic transmitters for level and flow measurements
Water/Oil cut monitors
Auto Calibration, Verification and Certification
RTK
Mass Flow Meters and Controllers
Ultra Low Flow Gas & Liquid Applications
Coriolis, Ultrasonic & Thermal Technology
NICHOLSON
Steam Traps
High Pressure Pipe Couplings (Unions)
VIATRAN
Pressure Sensors
Level Sensors
Process, Sanitary, Water
SCHUF/FETTEROLF
Flush Bottom Drain Valves, Ram Seal & Disc Valves
Sampling Valves
Diverter Valves, Changeover Valves
Jacketed Polymer Valves
Line Blinds
HOFFER
Turbine Flowmeters
Volumetric Rate & Total
3A Sanitary Flowmeters
ACROMAG
High Performance Signal Conditioners
Temperature Transmitters
4-20mA signal isolators, limit
alarms, signal splitters and more
BACHARACH
Refrigerant Leak Detection Systems
Combustion Efficiency Monitors
MEC-TRIC VALVE REPAIR
Safety Relief Valve Repair
Regulator Repair
Pressure Vacuum Tank Vent
Control Valve Repair
FLOW FABRICATION
Valve Steam Jackets
Flow Trace "Super Tracer"
Jacketed Piping Systems
Flexible Metal Hose
Tank Vents
Custom Fabrication
CHECK ALL VALVE MFG. CO.
Silent Check Valves
Flange + Union Insert
Sanitary, 3-A Approved
TANK VENTS
Tank Vents, Pressure/Vacuum Relief Valves
Flame Arresters/Detonation
Tank Blanket Gas Regulators
HOKE INCORPORATED
Needle, Metering, Ball Valves
Check + Relief Valves
US GAUGE - AMETEK
 Process Gauges
 Liquid Filled Gauges
 Diaphragm Seals
 GEMCO Transducers
CIRCLE SEAL CONTROLS, INC.
Check Valve
Relief Valve
Regulators
FAIRCHILD INDUSTRIAL PRODUCTS CO.
Precision Air Regulators
l/P & P/I Transducers
Volume Boosters, Computing Relays
GO REGULATOR, INC.
Pressure Reducing
Back Pressure
Cylinder Regulator
GEMS SENSORS
Level Sensors
Level & Flow Switches
ATKOMATIC VALVE COMPANY
Solenoid Valves
Fluid Power 2 & 3 Way Valves
DWYER INSTRUMENTS
Pressure, Flow, Level, Temperature
PROGUARD/NOWATA (MAHLE)
Liquid Filter Systems
Clean-in-place Filters
Backwash Filters
RP PRODUCTS
Division of Ronningen Petter
RHOSONICS
Slurry Density Meters
Concentration Meters
Ultrasonic concentration analyzers
Real Time Density Measurement